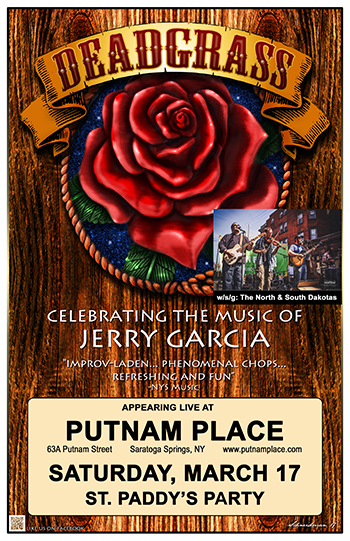 March 17, 2018 7:30 pm - 11:30 pm
Putnam Place, 63a Putnam Street, Saratoga Springs, NY 12866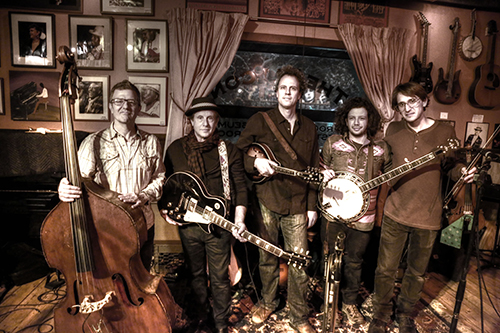 Show: 7:30pm*
Ages: 21+
Tickets: FREE SHOW!
* North & South Dakotas will also play a happy hour set from 4:30pm – 6:00pm
Multi-instrumentalist Matt Turk and Grammy award winner C Lanzbom have joined forces to form Deadgrass, an acoustic five piece band that celebrates the music of Jerry Garcia.
Web music authority All Music Guide, calls Matt Turk "…an artist to be reckoned with." Matt is a seasoned recording artist, multi-instrumentalist, eternal idealist and compassionate peace loving realist. Based out of Hastings-on-Hudson, New York, Matt is a veteran performer who has engaged audiences around the world. He has shared the stage with Pete Seeger and opened for Judy Collins, The Doobie Brothers, Fiona Apple, the Grateful Dead's Mickey Hart and more. He has performed throughout the USA, Europe, Israel and the Caribbean, appearing at festivals including Clearwater's Great Hudson River Revival, Gathering of the Vibes, Atlanta's Music Midtown, Jazz at Lincoln Center and venues including The Beacon Theatre and Brooklyn Bowl.
Grammy award winner C Lanzbom has spent years as a studio and touring guitarist. Well traveled in the Middle East, C absorbed Israel-Arabic musical rhythms of the region, fusing these ancient tones with the rock and roll he grew up with along the Jersey shore. C's performing, writing, engineering and producing credits include his own internationally acclaimed band Soulfarm, American Idol finalist Crystal Bowersox, Shlomo Carlebach, and Pete Seeger with Bruce Springsteen. C also has numerous television and film song placements. When not touring, C runs and owns Sherwood Ridge Studio, a state-of-the-art recording facility just north of New York City. C brings his unique sound around the world and his affection and passion for Jerry Garcia's music has been a major influence.
Fiddler Michael Barrett Donovan is a student-composer, music educator and multi-instrumentalist from the north coast of California currently living in Brooklyn. He employs his skills in writing music for composition competitions, copy-work, teaching lessons, and gigging.
Bassist Dave Richards has recorded and performed with The Indigo Girls, Rosanne Cash, Marshall Crenshaw, Buster Poindexter, Madeline Peyroux, Jewel, Richie Havens and others. He has toured throughout Europe, Canada and the US, appearing at Ottawa Jazz, Toronto Blues festival and Austin City Limits festivals. Born in Palo Alto, California, at the age of 17 he was playing jazz five nights a week in Orlando, Florida with Billy Peebles, the drummer for Ray Charles on many classic Atlantic recordings. Dave lives with his wife, singer- songwriter, Jane Kelly Williams and daughter in Northern NJ .
Banjo player Russell Gottlieb brings a wistful and propulsive sound to the banjo by drawing on influences ranging from rock to jazz and bluegrass to minimalism, without adhering too closely to stereotypes. Russell has toured extensively in the US as a founding member of the New Jersey based The Brummy Brothers, appearing at the Gathering of the Vibes, Catskill Chill, Philadelphia Folk Festival, Brooklyn Bowl, Nectar's, and World Cafe Live, opening for Melvin Seals and JGB, Larry Campbell and Teresa Williams, and Leftover Salmon, to name a few. Additionally, Russell has worked on several studio recordings as a leader and sideman and continues to perform with various groups in the greater NYC and Philadelphia areas.
Band Website: www.deadgrassband.com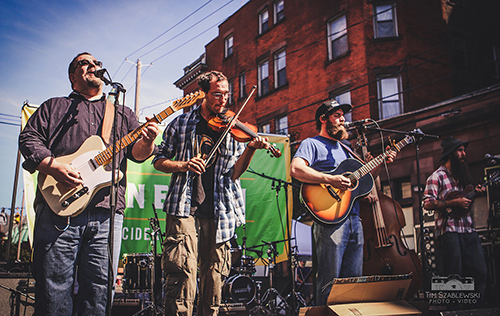 Formed in early 2011 by original members Zack Hay (Guitar & Vocals), Colin Hunt (Bass), and Mark Retajczyk (Guitar & Vocals), The North & South Dakotas set out crafting a sound that paid homage to the spirit of old time american music, mountain folk, and singer-songwriter traditions.  Though the band spent many years as a five-piece with drummer Mike Graves, and the past two years as a more traditional bluegrass quartet with utility man Nayt Patenaude (Dobro, Banjo, Mandolin), the Dakotas continue on as an ever-rotating cast of string players from the Upstate NY region.  In this more intimate setting, the band continues to write original, genre-sweeping music that makes use of their trademark vocal harmonies and the musical sensibilities of each band member's different background.
Band Website: www.nsdakotas.com